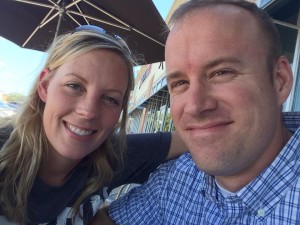 A lot of cancer centers have a bell that you ring when you complete your treatment. There is a large, bronze bell that sits on the desk next to my nurse. It has a big handle that is just begging someone to pick it up and give it a ring. A I-have-beat-this-thing ring! A week from today, I should be ringing that bell. Signifying another step complete. But, I will not get my chance…yet.
Last week the plan was to have surgery and then get back to more chemo. We had decided to just do the Abraxane, and not mess with the Adriamycin. It has risks on my heart that I am not willing to take right now and I can look back 4 years and say that I am not sure it really did its job on the cancer the first time. It is supposed to be the strongest, most effective on breast cancer, but mine is still here. We will continue with my doctors in Austin, however, I think my case is being presented to a team of doctors at MD Anderson through a connection that my mom made.
Then while enjoying lunch with my man, my surgeon called today. She has been thinking….
She is very concerned that she will not be able to get all the cancer out at surgery. The original MRI in March showed the depth of the cancer was alarming. It spans from my skin through to my muscle in the chest wall. The reason we chose chemo first was to shrink it to make surgery more successful. Since recent scans revealed that the cancer did not respond, she is still concerned about the depth that the cancer extends. In a typical patient, if surgery does not remove all the cancer, plan B is to kill the cells with radiation. I may not have a plan B. I have already received a high dose of radiation and they are not sure how effective they can be with another dose. I meet with the Radiation Oncologist on Wednesday to discuss this. The surgeon and my oncologist are discussing if we move forward with the new chemo drug to see if we can shrink the cancer before surgery. I would be for this because it would at least give us a way to measure the progress. But the oncologist is worried the longer the cancer sits, the more opportunity it has to spread. My guess is that this decision will be coming toward the end of the week.
There are so many of you who are following and praying with us. We thank you so much. I love Fight4Julie Mondays and I love seeing people I don't even know following the story. We were kicked down a little lower today, but we are still fighting.
"Cast all your anxiety on him because he cares for you." 1 Peter 5:7